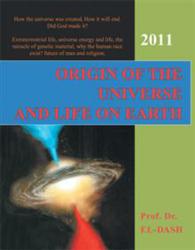 Brazil (PRWEB) January 12, 2013
The universe and life on earth are like a labyrinth that needed to be solved. They pose many questions that relentlessly seeking for answers. How the universe was created? How will it end? Did God made it? What is the truth about extra-terrestrial life, universe energy and life, the miracle of genetic material? Why does the human race exist? What is the future of man and religion? These and many other questions will be given explanation within the pages of author Ahmed A. El-Dashs The Origin of the Universe and Life on Earth.
This book is basically an analyses of the human scientific knowledge, and its significance and contribution to a better understanding of the creation of the universe and life on earth. Divided into two parts, this book deals with the origin of the basic particles, matter and energy. It presents a critical analysis of the Big Bang theory and a new model for the creation of matter and the universeexplaining the expansion of the universe in a more adequate and satisfactory mode. It also provides answers to questions about stars and planets, the nature of dark energy and antimatter, origin of inorganic matter, the fate of the universe, disintegration and recycling of matter and energy, the possibility and impact of the use of the universe energy on human life, and the eternal question, Did God create the universe?
Moreover, the book also explores the origin of life itself, the fantastic world of living cells and genetic material, the universe energy and organic and living matter, the miracle of lifewhether it is creation or evolutionprobability of extra-terrestrial life, the existence of human race, its purpose, life after death, and the role of God in the creation of lifeand the need for universal cosmic religion.
Packed with over 180 photos and illustrative figures, this book is an all-inclusive masterpiece that covers various fields and contributions from hundreds of scientists in every corner of the world. It is a contribution of all mankind to the enhancement of the human vision and understanding of the universe which everyone is a unique part of it.
For more information on this book, interested parties may log on to http://www.Xlibris.com.
About the Author

Ahmed A. El-Dash finished B.Sc. in Agriculture Engineering, in Ain Shams University, Cairo, Egypt in 1961, M.Sc. in Food Technology, Kansas State University, Manhattan, Kansas, USA in 1966, Ph.D. in Food Chemistry, Kansas State University, Manhattan, Kansas, USA in 1969, Post-Doctorate, in chemical reactions, National Academy of Sciences, USA in 1970, and Livre Docencia in Food Chem. & Tech., State University of Campinas, Brazil in 1978. He worked as research scientist and a member of university staff for 50 years in Egypt, United States of America and Brazil, with over 30 years as full professor. He has more than 100 scientific and research articles, books and patents published. He is the author of new theory on the molecular and chemical structure of Gluten protein. He has worked as a consultant for Inter-American Banc for Development and United Nation Agent for Industrial Development. He has lived for years in the three major human cultures in the Middle East and America. He speaks English, Portuguese and Arabic with firm understanding of the three major religions, Islam, Christianity and Judaism and read the Quran, Bible and Torah. Married to Eliana Cusin and has 6 children living in Brazil, United States, Ireland and Australia.
Origin of the Universe and Life On Earth * by Ahmed A. El-Dash

Publication Date: 8/20/2012

Picture Book; $ 91.99; 242 pages; 978-1-4771-2111-5

Picture Book Hardcover; $ 101.99; 242 pages; 978-1-4771-2112-2

Ebook; $ 3.99; 978-1-47712-112-2

To request a complimentary paperback review copy, contact the publisher at (888) 795-4274 x. 7879. To purchase copies of the book for resale, please fax Xlibris at (610) 915-0294 or call (888) 795-4274 x. 7879.
---