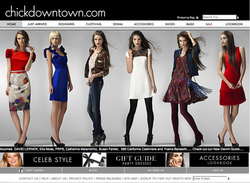 Pittsburgh, PA (PRWEB) November 28, 2008
The savings continue to grow this holiday shopping season at http://www.chickdowntown.com. Shoppers will receive 45% OFF regularly priced merchandise, and an ADDITIONAL 30% OFF all sale items. This an excellent time to get all of your holiday shopping finished early. New arrivals and more sale merchandise have just been added! If you only shop once a year, the Mother of all Cyber Monday Sales at chickdowntown.com is a must. The Cyber Monday Sale starts at Monday morning at 12:01 a.m. EST and runs through Tuesday morning at 8 a.m. EST.
USE CODE: CYBER

Please visit http://www.chickdowntown.com for complete details, as some designers are excluded from this sale.
http://www.chickdowntown.com carries over 200 lines of current season women's contemporary clothing, accessories, shoes, handbags, and jewelry from cutting-edge designers worldwide. Name brands include Alice Olivia, Citizens of Humanity, 7 for all Mankind, AKA New York, and MCQ Alexander McQueen to name a few. Shoes by designers such as Kors, L.A.M.B., and Jill Stuart also set the pace at this online luxury emporium. For a full listing of designers and to view the collections, visit http://www.chickdowntown.com, where the latest arrivals are showcased in the web-site's LOOKBOOK, Holiday Gift Guide, and Party Dress Book.
Attention to detail and a strong commitment to superior customer service also set chickdowntown.com apart from other online retailers. All purchases arrive individually wrapped in chickdowntown.com's signature tissue and are presented in a gift box. A black satin ribbon is the finishing touch. There is free ground shipping in the continental US.
About http://www.chickdowntown.com
http://www.chickdowntown.com is an online boutique featuring the latest fashions in women's contemporary clothing. The site carries over 200 lines of clothing, accessories, shoes, handbags, and jewelry from designers worldwide, and is one of the Internet's most popular fashion destinations. A subscription-based newsletter is available for those who are interested in updates regarding new arrivals and other chickdowntown.com special events. "45% OFF Regularly priced merchandise and an Additional 30% OFF all Sale items."
Designers Included
1

12TH STREET BY CYNTHIA VINCENT
2

291
3

388 CALIFORNIA CASHMERE
7

7 FOR ALL MANKIND

7 FOR ALL MANKIND KID
A

ABAETE

ADAM

AKA NEW YORK

ALEXIS BITTAR

ALI RO

ALICE OLIVIA

ALICE OLIVIA KID

AMERICAN VINTAGE

AMRITA SINGH

ANLO

ANNA SUI

ANNE LEMAN
B

BAJRA

BCBGMAXAZRIA

BENSONI

BETSEY JOHNSON

BIBA

BLACK HALO
C

C&C CALIFORNIA

CACHAREL KID

CALYPSO

CALYPSO KID

CAMILLA AND MARC

CAMILLA SKOVGAARD

CASTLE STARR

CATHERINE HOLSTEIN

CC SKYE

CHAIKEN

CHAN LUU

CHARLOTTE RONSON

CITIZENS OF HUMANITY

CITRINE BY THE STONES

COREY LYNN CALTER

CRISPIN & BASILIO

CRISTI CONAWAY

CURRENT/ELLIOTT
D

DAFTBIRD

DEGAINE

DEVELOPMENT

DIANE VON FURSTENBERG

DL1961

DOGEARED
E

ELIJAH

ELIZABETH AND JAMES

ERICKSON BEAMON

ERNEST SEWN
F

FLUET

FOLEY CORINNA

FREMONT
G

GENETIC DENIM

GIUSEPPE ZANOTTI

GOLD HAWK

GOLDSIGN

GRAYDN

GRYPHON

GUSTTO
H

HABITUAL

HANII Y

HANKY PANKY

HAUTE HIPPIE

H

HELMUT LANG

HUDSON

HUNTER BOOTS
I

INGWA MELERO

INHABIT

IODICE

ISSA
J

J BRAND

JACK RABBIT

JACQUELINE JARROT

JAMES JEANS

JAY GODFREY

JILL STUART

JOCELYN

JOE'S JEANS

JUICY COUTURE

JUICY COUTURE SHOES

JULIE BROWN

JULIE HAUS
K

KAREN ZAMBOS

KARTA

KING BABY

KITSON

KOOBA

KORS

KOTUR

KOVA & T

KRITIK
L

L.A.M.B.

LAROK

LAUREN CONRAD

LAUREN MOFFATT

LAUREN MOSHI

LEE ANGEL

LIA KES

LILY MCNEAL

LINEA PELLE

LNA

LOEFFLER RANDALL

LONDON FOG

LORICK

LOVE QUOTES

LUC KIEFFER
M

M MISSONI

M60 MISS SIXTY

MADISON MARCUS

MARA HOFFMAN

MARC BY MARC JACOBS

MATT AND NAT

MAWI

MCQ ALEXANDER MCQUEEN

MEMBERS ONLY

MICHAEL BY MICHAEL KORS

MIKE & CHRIS

MILLY

MINT JODI ARNOLD

MISCHA LAMPERT

MISS SIXTY

MODERN VINTAGE

MURPHY

MY BAG CARES
N

NANETTE LEPORE

NATION LTD

NELLIE PARTOW

NFY

NILI LOTAN

N

NORMA KAMALI

NOTIFY

NS FRIEDMAN DESIGN
O

ORICIANI
P

PAIGE PREMIUM

PAPER DENIM & CLOTH

PAUL & JOE

PAUL & JOE SISTER

PEDRO GARCIA

PLASTIC ISLAND

PLENTY BY TRACY REESE

PRATT'S

PRIMP
R

R.J. GRAZIANO

RACHEL LEIGH

RACHEL PALLY

RAFE

RAG & BONE

REBECCA MINKOFF

REBECCA TAYLOR

RICH & SKINNY

RILLER & FOUNT

ROBERT RODRIGUEZ

RODNIK

RORY BECA

ROYALTON
S

SASS & BIDE

SCHARKE

SEE BY CHLOM

SHEILA FAJL

SHOSHANNA

SOGOLI

SOPHIA EUGENE

SPANX

SPLENDID

SUNNER

SUPERFINE

SUSAN FARBER

SUSAN HANOVER

SUSANA MONACO

SWEETEES
T

T BAGS

TARINA TARANTINO

THE UNKNOWN FACTORY

THEORY

THREAD SOCIAL

TIBI

TOMS

TORN BY RONNY KOBO

TRACY REESE

TRACY ZYCH

TRINA TURK
V

VELVET

VICTOR OSBORNE

VINCE

VOOM
W

WHAT COMES AROUND GOES AROUND

WHITLEY KROS

WILLA M. FOR JULEZ BRYANT
Y

YAYA AFLALO

YOANA BARASCHI
###
---