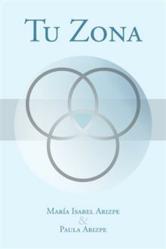 CORONADO, Calif. (PRWEB) December 26, 2012
In their new book Tu Zona (published by Balboa Press), authors Paula Arizpe and Maria Isabel Arizpe offer readers direction on which specific types of foods are right for specific conditions in their bodies. It is certain to appeal to anyone interested in healthy nutrition that not only nourishes the body but also the spirit.
It is a guide so you can know about yourself, about how your body works, what your strengths are, your weaknesses and tendencies, and then create your unique and individualized program that will always work for you because no one should know more about you than yourself.
Tu Zona is an easy-to-read guide that readers may integrate into their lives at any level. It gathers knowledge from ancient and modern civilizations that people can use to work for themselves. "This book is a journey within yourself that will reveal aspects of your being that were not acknowledged before. This revelations will allow you to find and honor your unique and perfect physiology and spirituality; your zone.
About the Author

Paula Arizpe holds a degree in philosophy from the Universidad Panamericana and studied the philosophy of education in Mexico. She earned her doctorate from the University of Navarra, Spain, and collaborates on projects in overseas education. Her mission is to integrate a comprehensive human ecology creating a dialogue between biochemistry and spiritual nourishment.
Maria Isabel Arizpe works as a nutrition consultant. She has a degree as a biochemical engineer, specialized in food processes and a masters degree in seafood processing and raw food nutrition. She is a counselor for the masters program in raw food nutrition at the Culture of Life Institute created by Dr. Gabriel Cousens in Arizona. She has an active blog about nutrition and wellness in English and Spanish (http://www.mygreenlady.com). She is the creator of the nutritional drink "Brain Power."
For more information, visit their websites at http://www.mygreenladyhealthy.com and http://www.mygreenlady.com.
---